---
---
This site utilizes Google Analytics, Google AdSense, as well as participates in affiliate partnerships with various companies including Amazon. Please view the privacy policy for more details.
Celebrating being debt-free - along with four years of marriage - my wife and took a week-long vacation in Ireland.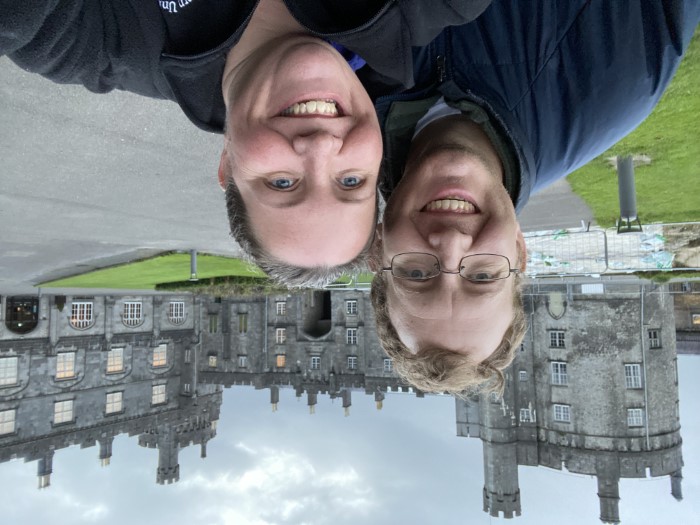 Our trip was for the first week of November. And - other than the flight, the car rental, and the first hotel night - nothing was prebooked. Not that I didn't do any preparation. I read a book on Ireland (Rick Steves' Ireland), checked up on any COVID-19 protocols, brushed up on my Irish with Duolingo (dia daoibh!), made sure my Hotel Tonight app was up-to-date, and that my Capital One Quicksilver card - my only card with no foreign transaction fees - had plenty of available credit.
In the week or so since we've been back, I've been retracing our steps across the over 600 miles we drove through Ireland to help us revisit our trip. Below is what I've documented.
October 30
Drove from home to Chicago O'Hare Airport:

Dropped the kids off at grandma's & grandpa's.
Ate a late lunch (around 1pm) at Art's Skillet in Indianapolis, Indiana.
Left the car at my wife's cousin's house.
Ate tacos for dinner.
Took the CTA Blue Line to Chicago O'Hare Airport.
October 31
Hour so so layover was at Copenhagen Airport, Denmark.
Arrived at Dublin Airport.
Dropped our luggage off at the hotel room (Maldron Hotel Dublin Airport) and looked for somewhere to eat.
Walked to and ate at Kealy's.

My Capital One Quicksilver card was denied, so used my Double Cash instead.
Ended up getting a foreign transaction fee on this one.
However, my Quicksilver worked after this transaction.

Stayed at the hotel for the night.
November 1
Ate breakfast at the hotel. Both my wife and I had our first serving of a "full Irish breakfast" - two sausages, two eggs, two pieces of bacon (which was more like Canadian bacon than American bacon), a hash brown, black and white pudding.

Picked up the rental car at Sixt at the airport.

The car was a little away from the airport, but Sixt did shuttle us to the car park.
The car was a Toyota Aygo. Start mileage (kilometrage?) was 60,269 km.

Got SIM card at Three Store in the Artane shopping center.

Visited Brú na Bóinne

It turns out that all OPW heritage site admissions are free for the rest of 2021.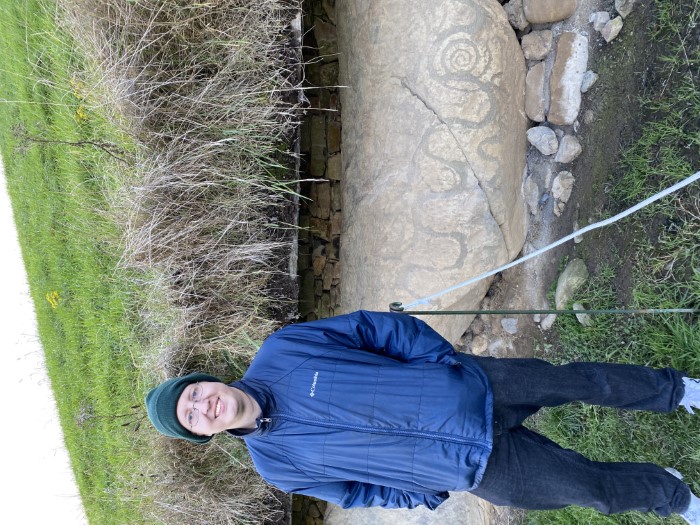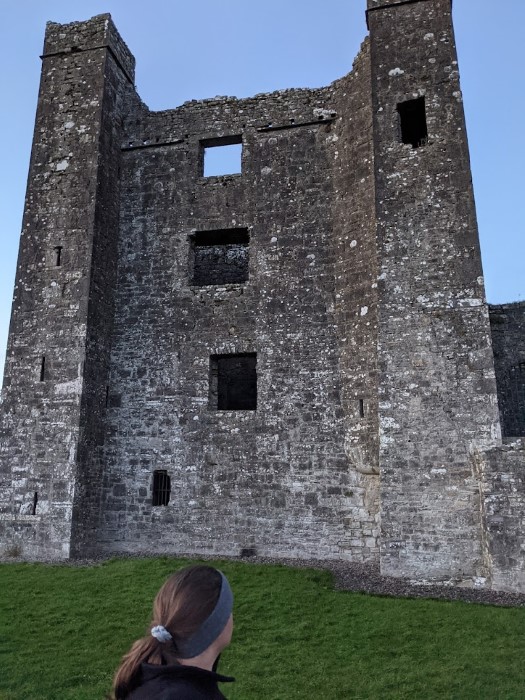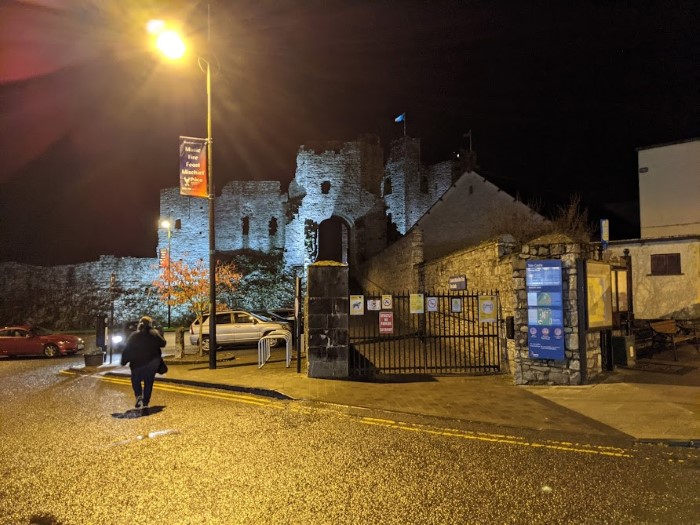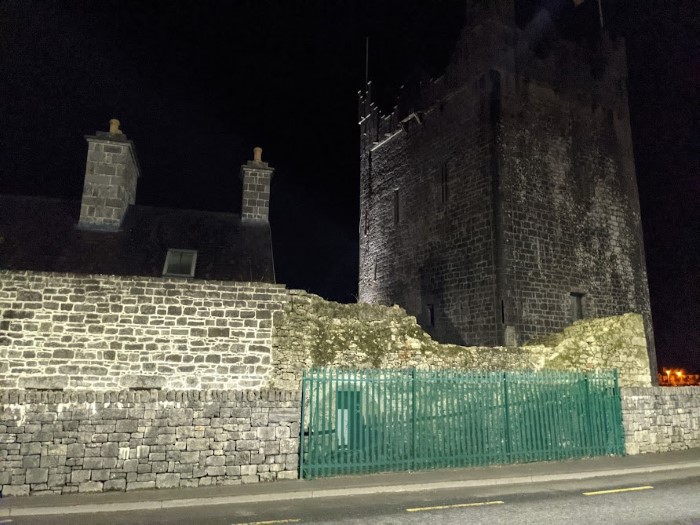 November 2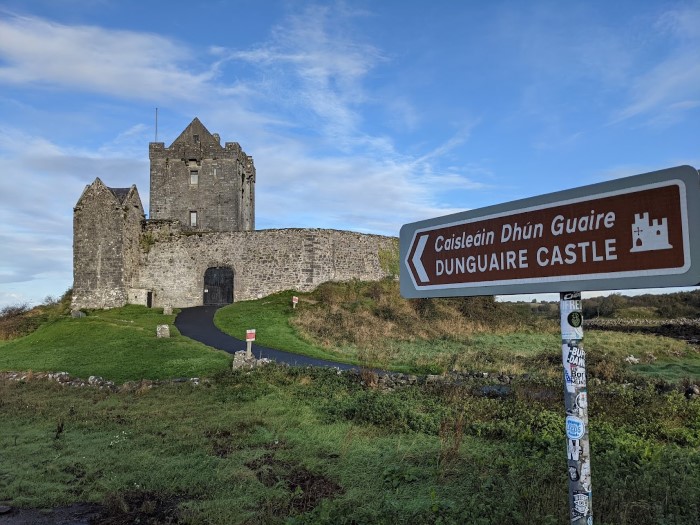 On our Cliffs of Moher hike from Doolin we almost made it to the visitor center, but we had to turn back due to time.
Once back in Doolin we bought our kids souvenirs (a stuffed leprechaun and a stuffed Irish doll) and a magnet.
Drove to Cliffs of Moher Visitor Center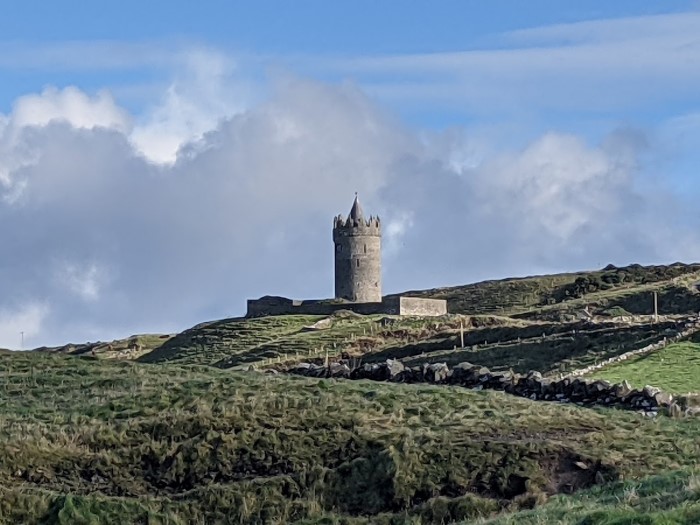 Drove to Deeber House Hotel.

On the way there, we drove through some rain and saw a bright rainbow.
We were supposed to stay at the Deeber House B&B, but the B&B room wasn't ready.
Ate dinner and breakfast at the Deeber House Hotel restaurant.
November 3
Drove to Mallow.

Looked at Mallow Castle (both the old one and the new one).
Walked over to Sports Direct to buy luggage to bring our dirty clothes home in.
Walked over to Costa Coffee and had a coffee.
Walked back to the car, and then got gas in Mallow before heading to the next place.

Drove to Site of Kilpadder Church… There was no church, hence "site of".
Drove to Blarney Castle.

Walked about the Blarney Castle Gardens. We did climb up Blarney Castle; my wife kissed the Blarney Stone, I did not.
Ate at Blarney Castle Hotel (which is not part of the castle).

Drove down to and walked about Kinsale.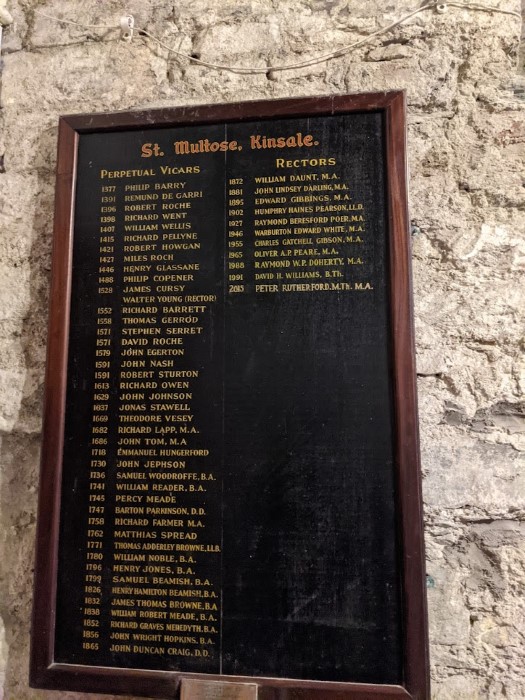 November 4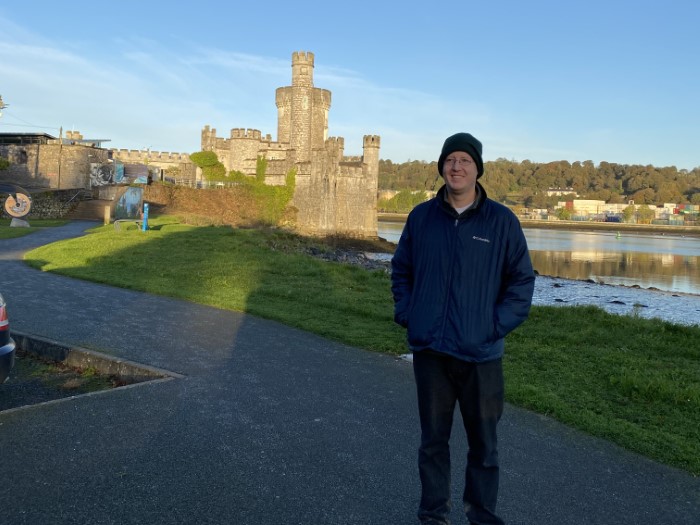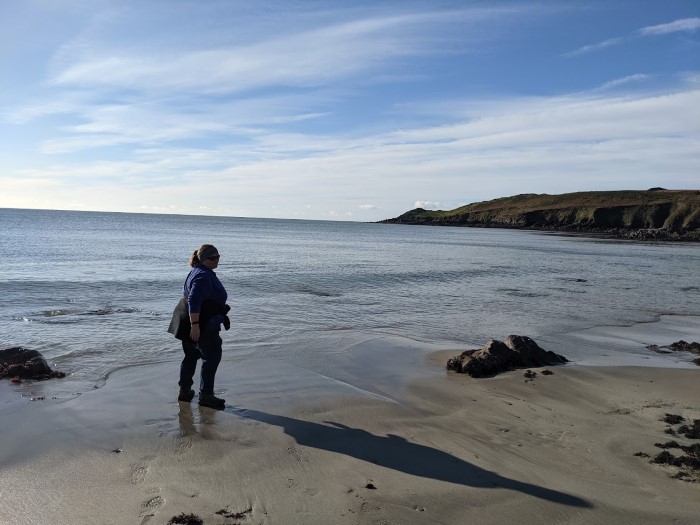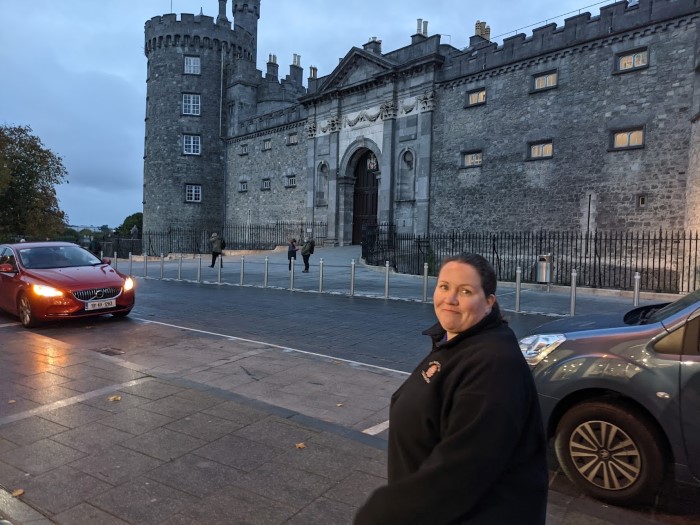 November 5
Our last full day was spent in Dublin and was must more tourist-y. We visited:
We also wanted to visit Kilmainham Gaol - but it was booked up for the next month - and the Book of Kells - but it was sold out by the time we got there.
We also took a buggy ride (had pay in cash - in Euro - we had to visit ATM).
We ate lunch at Tang and had dinner at The Old Mill at Temple Bar. After dinner, we had ice cream at Cloud Nine, also in the Temple Bar.
November 6
Drove back to Dublin Airport and dropped the car off.

End mileage/kilometrage was 61,261 km, meaning we drove a total of 992 km, or about 616 miles.

At breakfast at the airport.
Flew back to Chicago O'Hare via Copenhagen, Denmark.
Ate at White Castle on the way home.
November 7
Got home past midnight. Sleep in our own beds.
Wake up and go pick up the kids from grandma's and grandpa's.
Go raibh maith agat as léamh!

Thank you. Your comment will be visible after approval.
Your comment has been submitted, but their seems to be an error. Check your browser console for more details.