---
---
This site utilizes Google Analytics, Google AdSense, as well as participates in affiliate partnerships with various companies including Amazon. Please view the privacy policy for more details.
Reading keeps getting better month after month. I read more to both my son and my daughter, and twice as many books for myself than I did last month.
Books I Read to My Children
Books I Read to My Son
I read thirty - that's 30! - different books to my son last month. He can't even count to thirty yet. Twenty, maybe twenty-nine before he continues to twenty-ten.
Thirty!
Books I Read to My Daughter
I read less than half as many books to my daughter last month as I did to my son.
That's right - I read fourteen different books to my daughter last month.
Books I Read for Me
I did good for me, too. I read two books versus my normal one.
Well, I finished two books. The first I read mostly in July - I finished it in the first few days of August.
The first book I finished was Potty Training For Dummies. Yep, we're working on potty training my son!
The book I started and finished in August was Human Nature by Finlay Borthwick. I want to say it wasn't a well-written book - the motivation for the characters seemed wanting - but it was an easy read, which made it enjoyable.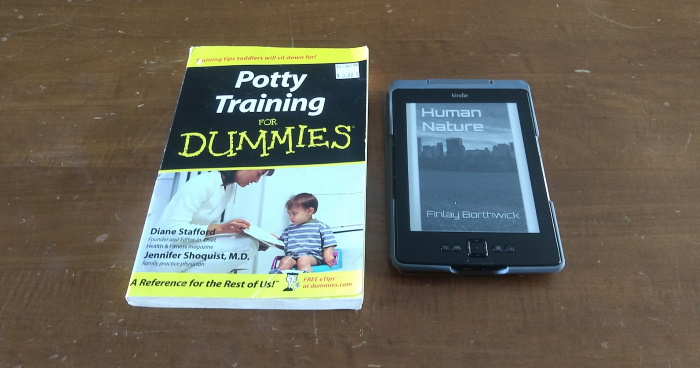 Potty Training For Dummies in physical book form and Human Nature in ebook form.
Until next time.

Thank you. Your comment will be visible after approval.
Your comment has been submitted, but their seems to be an error. Check your browser console for more details.