---
---
This site utilizes Google Analytics, Google AdSense, as well as participates in affiliate partnerships with various companies including Amazon. Please view the privacy policy for more details.
Back in 2019, I attended the 2019 Cincinnati Cybersecurity Conference by Data Connectors.

The Data Connectors logo
Since then, it's rolled around a few times.
In 2020, it was virtual; I attended, but it wasn't as good as in-person.
It was also virtual in 2021. I didn't attend that one.
In 2022, it was back to being in-person. I wasn't able to attend.
But last week it was held in Columbus, Ohio, and I was able to attend.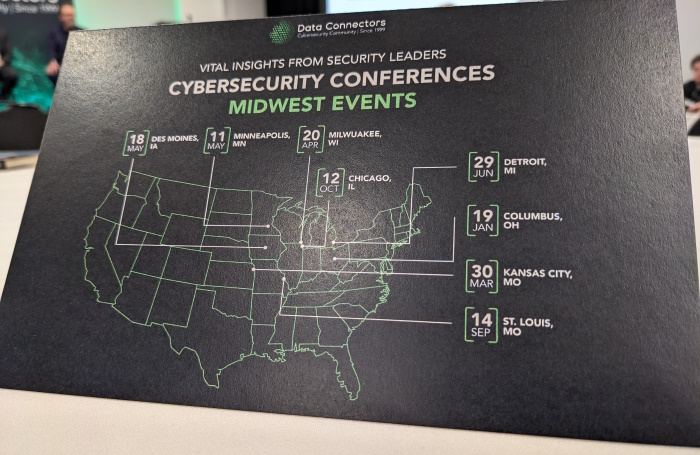 A card that was on each table showing the various midwest Cybersecurity Conferences
So how did it go?
I felt like the one I attended back in 2019 was better. But it's not like this one was bad.
I only talked with vendors. There was a social hour afterwards where I could've talked with more people, but I needed to head home to take care of my kids.
Lunch was good - the protein was a choice between chicken or salmon - I, of course, chose a little of both.
Swag was good, although no Yubikey this time. I got a couple of t-shirts, a few socks (why socks?), plenty of pens, and a notebook.
The best, other than the notebook, were power banks. I got two.
Oh - and a signed copy of a hardcover edition of No Safe Harbor: The Inside Truth About Cybercrime by Mark Sangster. I didn't really care about getting it signed; I just wanted the free book (sorry, Mark).
Oh, and I got my bald head on Twitter - I'm on the bottom right in the maroon sweater:
"We now live in a time of distributed applications and a #DistributedWorkforce. You need to move both your networking and security to the #cloud. The services need to be delivered like a #SaaS service." @DataConnectors @jspieg67 pic.twitter.com/a59eEEHZJL

— Axis (@AxisSecurityHQ) January 19, 2023

Thank you. Your comment will be visible after approval.
Your comment has been submitted, but their seems to be an error. Check your browser console for more details.