---
---
This site utilizes Google Analytics, Google AdSense, as well as participates in affiliate partnerships with various companies including Amazon. Please view the privacy policy for more details.
Spring is here and it's the 20th. Time for another Blog Stat report.
I made four posts in the past month:
Alexa
Since Alexa is going away starting the first of May (which is next month), this will be the last time I'm able to report my Alexa rank.
Unless the Alexa people change their mind at the last minute.
Google Analytics
Sessions → 6,743
Users → 6,000
Pageviews → 7,632

Google Search Console
Clicks → 5,380
Search Impressions → 119,000
Average position → 29.6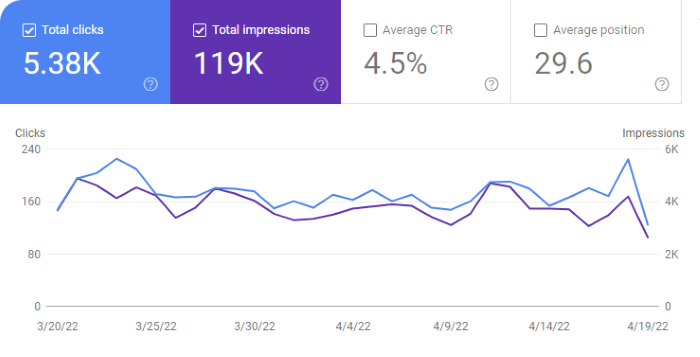 AdSense
Balance → $73.15
Estimated earnings → $72.77
Impressions → 21,469
Clicks → 128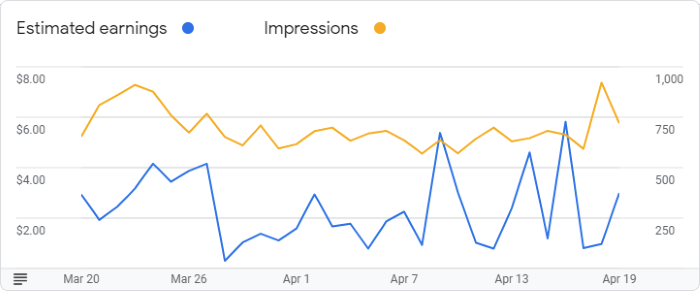 Moz Stats
Moz Domain Authority → 33
Moz Linking Domains → 888
Ratios
Earnings / 1,000 sessions = $72.77 / 6.473 = $11.24
Earnings / 1,000 pageviews = $72.77 / 7.632 = $9.43
Earnings / 1,000 impressions = $72.77 / 17.703 = $4.11
Earnings / day = $72.77 / 31 = $2.35
Sessions / day = 6,473 / 31 = 208.8
Pageviews / day = 7,632 / 31 = 246.2
Impressions / day = 21,469 / 31 = 692.5