---
---
This site utilizes Google Analytics, Google AdSense, as well as participates in affiliate partnerships with various companies including Amazon. Please view the privacy policy for more details.
February is a short month (and the only truly four-week month) but I still managed to finish two books. And, of course, I've read plenty of children's books to my son.
Books I Read for Me
If you've been following these book reading lists since at least last December, you'll know that I've discovered Prime Reading - a benefit of Amazon Prime where Prime members can borrow up to ten ebooks at a time.
Both the books above I read via the Prime Reading program.
I also bought a Kindle at a thrift store for around eight bucks. It's an older Kindle, but well worth the eight bucks. It's much better than reading ebooks on my phone - way fewer distractions.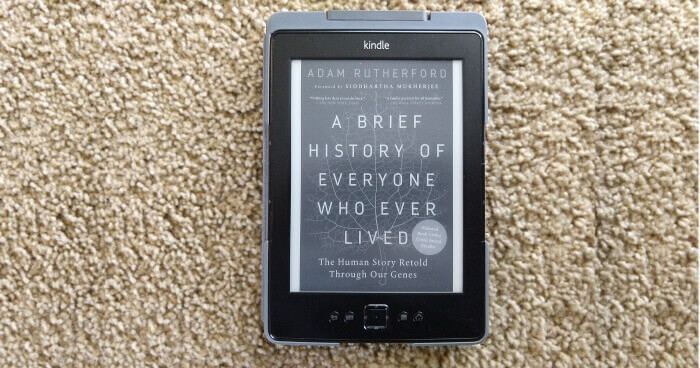 The cover of A Brief History of Everyone Who Ever Lived on my thrift-store-bought Kindle.
Books I Read to My Son
The thing with reading to my son is that I have to find ways to ensure he's a captive audience. As I've said many times in previous posts, he'd much rather be on the floor exploring and playing than being read to.
So far I've found two ways to make him a captive audience. The first is to read to him while I'm holding him when he's eating his bottle. Bottle time might be over soon since he's approaching his first birthday. So the other way I've found to read to him - and I've only done this once - is to read to him while he's strapped into his high chair.
Have you read any good books lately?

Thank you. Your comment will be visible after approval.
Your comment has been submitted, but their seems to be an error. Check your browser console for more details.