---
---
This site utilizes Google Analytics, Google AdSense, as well as participates in affiliate partnerships with various companies including Amazon. Please view the privacy policy for more details.
Wright-Patt Credit Union (WPCU) members like me were pleasantly surprised to see that the amount they receive in their TrueSaver account had nearly doubled.
When I logged into my WPCU account today, I noticed that I received $2.24 in interest (Wright-Patt calls it "dividends") instead of my normal $1.26: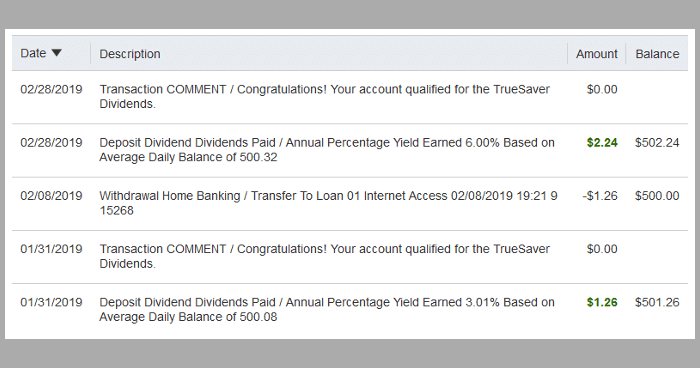 My WPCU TrueSaver Dividend Doubling
The TrueSaver accounts used to have a rate of 3%. Now they have a rate of 6%.
The other conditions for a TrueSaver account remain the same:
The special rate only applies to balances up to $500; a lower rate (0.15%) is applied to higher balances.
The member must also have an active checking account with at least four eligible transactions a month. Eligible transactions include:

Bill bay transactions
ACH deposits and withdrawals
Debit card transactions
Point of sale transactions
Cleared drafts

There must be either regular direct deposits (at least once every 45 days) or be set up to receive eStatements
With online banks now having rates of high as 2.5% and climbing, I was beginning to worry that they would soon surpass WPCU's TrueSaver rate. Now I can offset those worries.
Check out WPCU's page on personal rates as well as their savings account disclosure PDF for more information.
Check out Doctor of Credit's Best High Yield Savings Accounts page for, well, the best high yield savings accounts.

Thank you. Your comment will be visible after approval.
Your comment has been submitted, but their seems to be an error. Check your browser console for more details.