---
---
This site utilizes Google Analytics, Google AdSense, as well as participates in affiliate partnerships with various companies including Amazon. Please view the privacy policy for more details.
If you've been reading this blog for any amount of time, you'll know that I publish monthly book reading lists. While the format has changed slightly since my first book reading list in January of 2018, and I didn't publish one the following month, the posts have been a regular part of this blog for almost three years now.
Initially, I linked the books to Amazon using my affiliate link. But then, in February of 2019, Amazon shut down my associate account. Which sucked, but at the time I wasn't making a ton from Amazon.
Amazon did eventually reinstate my account but in the meantime, I changed every link to a book I could from Amazon to another site called AbeBooks. To monetize my links to AbeBooks I used a service called VigLink (which is now called Sovrn//Commerce).
VigLink involved a JavaScript plugin. I never made any money with VigLink, so at some point, I decided to disable (i.e. remove) the plugin.
I never relinked any books to Amazon. I even continue to link books to AbeBooks wherever possible.
Eventually, I decided to pursue an affiliate relationship with AbeBooks, so a few weeks ago I signed up with their affiliate program and modified all prior AbeBooks links to be AbeBooks affiliate links.
I also updated my privacy policy accordingly.
And I also have an image that I'll be throwing into the sidebar: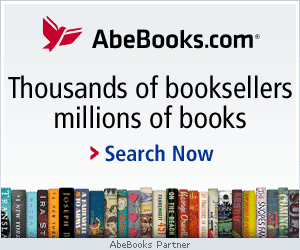 So far, I haven't made any money with my AbeBooks affiliate. I probably won't for a while.
But I might - who knows?
Full disclosure: Amazon bought AbeBooks back in 2008.

Thank you. Your comment will be visible after approval.
Your comment has been submitted, but their seems to be an error. Check your browser console for more details.