---
---
This site utilizes Google Analytics, Google AdSense, as well as participates in affiliate partnerships with various companies including Amazon. Please view the privacy policy for more details.
Introducing JoeHx Tees - a web site dedicated to showcasing my Merch by Amazon t-shirts.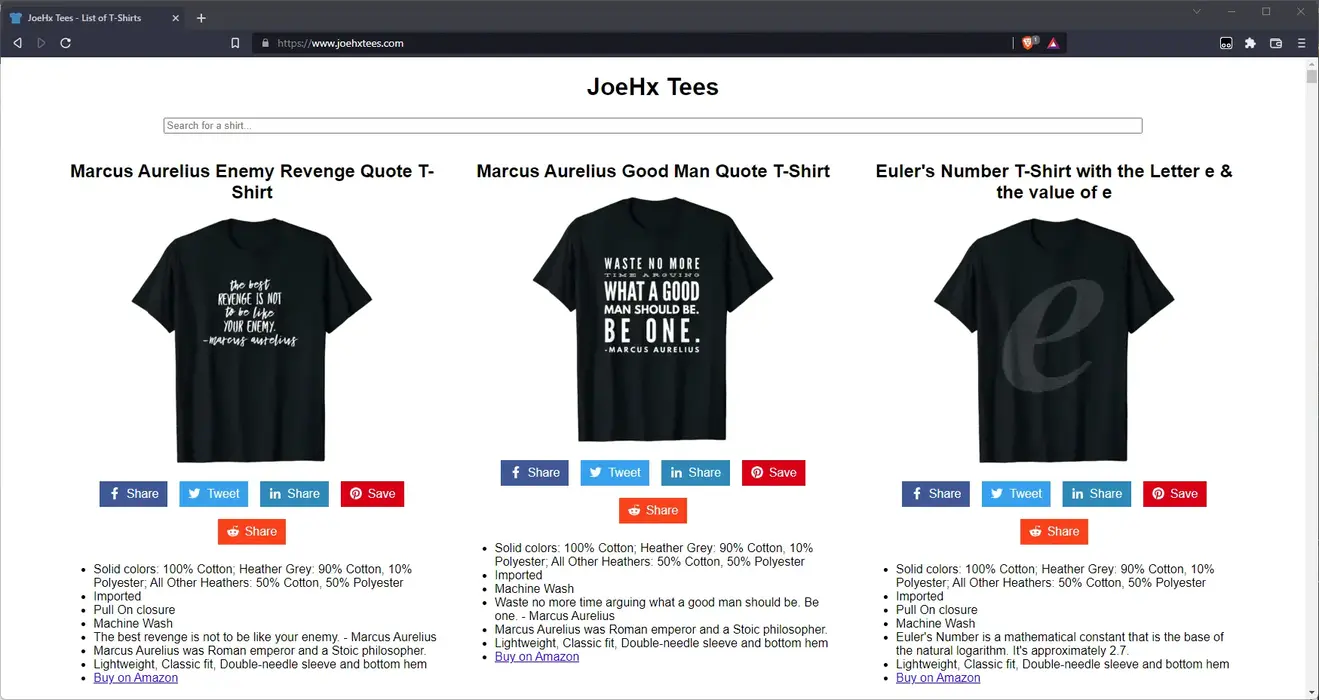 Why create a website just to display my t-shirts? Party for fun, partly to make a sales funnel. Each t-shirt has a link - with my Amazon Affiliate tag attached - to my shirt. This means if someone buys one of my shirts through the JoeHx Tees site, I'll get a bit of extra money. Especially if they end up buying something else, too.
Tech Stack
JoeHx Tees is a static site generated by custom Java code. That is, I wrote the static site generator. The site itself is only HTML, CSS, JavaScript, and, of course, images (webp format to be exact). I did use Apache Maven so I could import Google Gson - a JSON parsing library.
I do employ Google Analytics to keep an eye on the traffic to the site. I've also added it to Google Search Console. Oh, and I also bought the domain (for a whopping twelve bucks per year) from Google Domains.
The FavIcon - the icon that represent the site - is a t-shirt emoji 👕. Specifically it's the t-shirt emoji from the open source project Twemoji (so it might not be the exact emoji earlier in this paragraph). I generated it over at favicon.io.
I scraped both the Merch by Amazon site and Amazon itself using custom Tampermonkey scripts - that way I didn't have to deal with authentication.
It's all hosted by the good people at GitHub. The repo itself is over at https://github.com/hendrixjoseph/joehxtees.

Thank you. Your comment will be visible after approval.
Your comment has been submitted, but their seems to be an error. Check your browser console for more details.