January 2020 Blog Statistics
---
---
This site utilizes Google Analytics, Google AdSense, as well as participates in affiliate partnerships with various companies including Amazon. Please view the privacy policy for more details.
It's been a busy month - Christmas, New Years, and a new baby.
As such, I was only able to publish three posts this month:
Alexa
My Alexa ranking has gotten worse over the past month. I'll assume that's because I haven't been able to work on the blog as much.
Global Rank → 312,868
Rank in the United States → 149,540
Total Sites Linking In → 4
My old domain is starting to lose "total sites linking in." Last month it was at 61 - this month it's at 57.
Google Analytics
Sessions → 1,308
Users → 1,230
Pageviews → 1,602

Google Analytics Graph for January
Google Search Console
There's not much going on for the old domain on Google Search Console, so I'll omit that from the reports from here on out. I'll keep updating the blog stats spreadsheet so long as there is data, however.
Clicks → 431
Search Impressions → 15,900
Average position → 69.9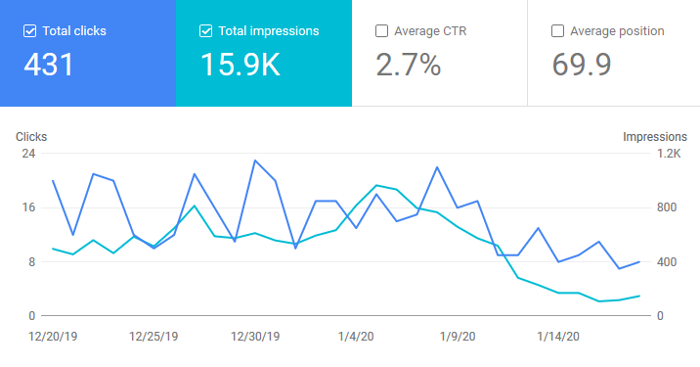 Google Search Console Graph for joehxblog.com in January
AdSense
AdSense is starting to look pretty good - I think I may even reach the $100 threshold this year!
Balance → $59.28
Estimated earnings → $5.20
Impressions → 2,291
Clicks → 22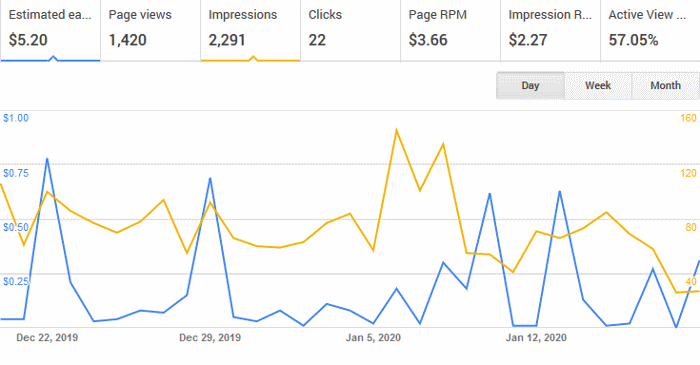 Google AdSense Graph for January
Ratios
Earnings / 1,000 sessions = $5.20 / 1.308 = $3.98
Earnings / 1,000 pageviews = $5.20 / 1.602 = $3.25
Earnings / 1,000 impressions = $5.20 / 2.291 = $2.27
Earnings / day = $5.20 / 31 = $0.17
Sessions / day = 1,308 / 31 = 42.2
Pageviews / day = 1,602 / 31 = 51.7
Impressions / day = 2,291 / 31 = 73.9