February 2020 Blog Statistics
---
---
This site utilizes Google Analytics, Google AdSense, as well as participates in affiliate partnerships with various companies including Amazon. Please view the privacy policy for more details.
Slows days here in the blogosphere, but I keep on trucking.
I was only able to publish three posts this month:
Alexa
My Alexa ranking keeps getting worse. Two months ago it was at 241,132. Last month it was at 312,868. This month… well, look below.
Global Rank → 516,963
Rank in the United States → ??
Total Sites Linking In → 4
I'm assuming it's because I haven't been able to post as much. This month and last month I only made three posts. That last time I made three posts in a month was in May of 2018.
But I also have heard rumors that Google made some changes halfway through January, so that could be it too.
Also, the old free "Rank in the United States" has disappeared for my site, although it's still present for sites such as Google and Amazon.
My old domain continues to lose "total sites linking in." This month it's at 54 sites, down from 57 last month and 61 the month before.
Google Analytics
Just like my Alexa rank keeps getting worse, so do my Google Analytics stats:
Sessions → 787
Users → 702
Pageviews → 1,018

Google Analytics Graph for February
Google Search Console
And my Google Search Console stats are going down, too:
Clicks → 217
Search Impressions → 2,750
Average position → 55.7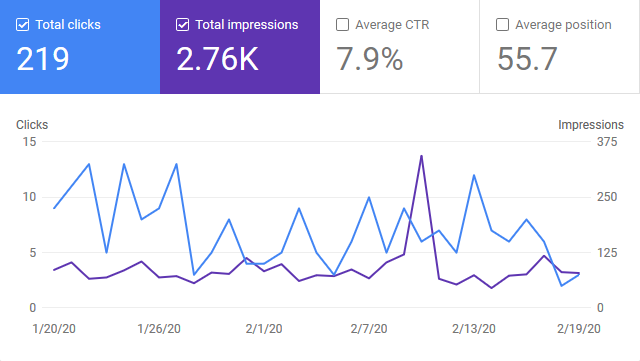 Google Search Console Graph for February
AdSense
Oddly enough, despite all my other already mentioned stats going down, my AdSense stats are looking pretty good:
Balance → $64.13
Estimated earnings → $3.51
Impressions → 1,580
Clicks → 16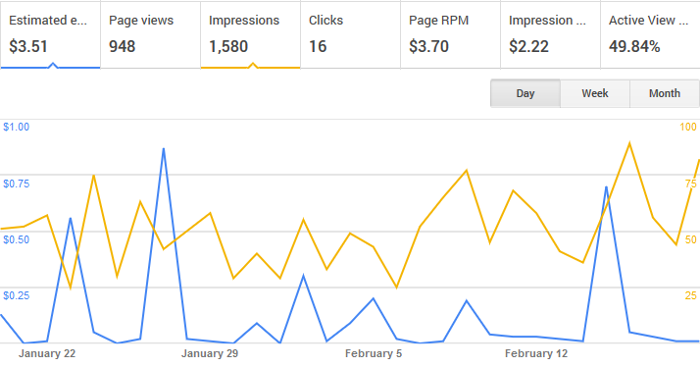 Google AdSense Graph for February
Moz Domain Authority
I've decided to start including another measure- Domain Authority as measured by Moz.com.
Domain Authority can range from 1 through 100. The higher the number, the better.
Moz says that they use a "machine learning model" to determine Domain Authority. If their method is like anything Google users for their PageRank algorithm, then Domain Authority of one domain is simply a function of the Domain Authorities of domains that link to that one domain.
For more information on Google PageRank, check out my article How Does Google Know?
I did backtrack and add previous Domain Authority numbers to my spreadsheet. Those numbers are, including this month's numbers:
February 2020 → 31
January 2020 → 30
December 2019 → 30
November 2019 → 31
October 2019 → 32
September 2019 → 26
August 2019 → 22
Ratios
Earnings / 1,000 sessions = $3.51 / 0.787 = $4.46
Earnings / 1,000 pageviews = $3.51 / 1.018 = $3.45
Earnings / 1,000 impressions = $3.51 / 1.580 = $2.22
Earnings / day = $3.51 / 31 = $0.11
Sessions / day = 787 / 31 = 25.4
Pageviews / day = 1,018 / 31 = 32.8
Impressions / day = 1,580 / 31 = 51.0