---
---
This site utilizes Google Analytics, Google AdSense, as well as participates in affiliate partnerships with various companies including Amazon. Please view the privacy policy for more details.
It is now 2022. And the beginning of the fifth year of doing these monthly blog status reports.
I four posts in the past month:
Alexa
I'll only be able to report my Alexa rank three more times after this month - since Alexa is going by-by on May 1, 2021.
Google Analytics
Sessions → 5,648
Users → 4,993
Pageviews → 6,612

Google Search Console
Clicks → 3,950
Search Impressions → 104,000
Average position → 33.8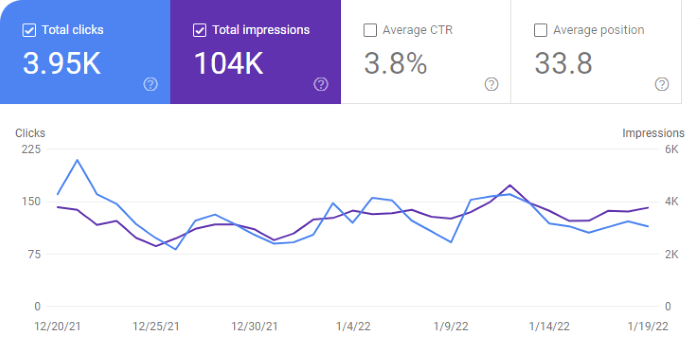 AdSense
Balance → $143.66
Estimated earnings → $98.65
Impressions → 17,336
Clicks → 165

Moz Stats
Moz Domain Authority → 33
Moz Linking Domains → 735
Ratios
Earnings / 1,000 sessions = $98.65 / 5.648 = $17.47
Earnings / 1,000 pageviews = $98.65 / 6.612 = $14.92
Earnings / 1,000 impressions = $98.65 / 17.336 = $5.69
Earnings / day = $98.65 / 31 = $3.18
Sessions / day = 5,648 / 31 = 182.2
Pageviews / day = 6,612 / 31 = 213.3
Impressions / day = 17,336 / 31 = 559.2