---
---
This site utilizes Google Analytics, Google AdSense, as well as participates in affiliate partnerships with various companies including Amazon. Please view the privacy policy for more details.
Like many of you who are still working, I'm working at home now. Thankfully, I can take our kids to my wife's parent's house while we both work at home.
None of this has stopped us from reading to our kids. And I keep reading for myself, as well.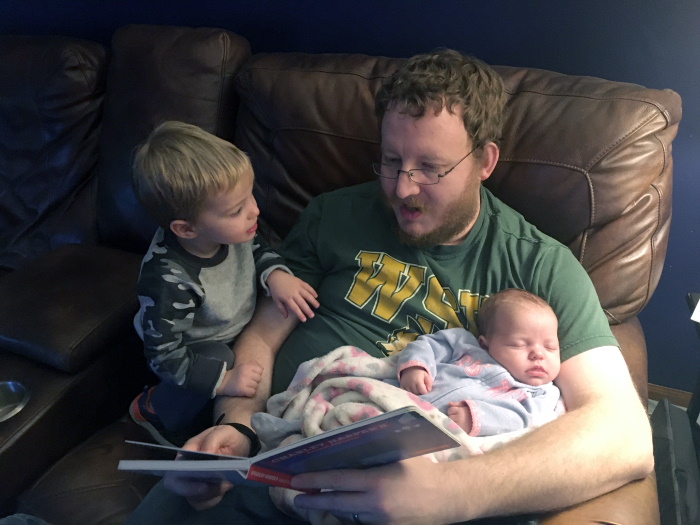 Me reading to both kids.
Books I Read to My Son
I read twenty-three - that's 23 - different books to my son:
Baby Animals
Bert & Ernie's First Book of Opposites
First Words
How Big is Big?
We See Shapes
Books I Read to My Daughter
I read seventeen - 17! - books to my daughter. That's a big increase to the handful of books I read to her in February and the two in January.
Baby Animals
How Big is Big?
We See Shapes
The Books I Read for Me
I read two books for me.
The first book I read - You Have the Right to Remain Innocent - I picked up after learning about a $3 Amazon Kindle credit from Doctor of Credit's site.
You Have the Right to Remain Innocent talks about the importance of not talking to the police. It explains that it's the police's job to find evidence against you - even if you're innocent. The police are allowed to lie to you - but you may not be legally allowed to lie to the police. In other words, get a lawyer.
The second book I read - The Internet of Money - I picked up via free Prime Reading.
This book is mostly about Bitcoin - although you could argue it's about cryptocurrency in general. Honestly, I felt that the book was a shill for bitcoin. "Bitcoin is great because bitcoin is great!" It makes more sense when you read the first line in the description of the book: "While many books explain the how of bitcoin, The Internet of Money delves into the why of bitcoin."
The book is just a compilation of speeches and presentations that the author, Andreas M. Antonopoulos, has given on Bitcoin and cryptocurrency.
Here are some of his presentations on YouTube:

Thank you. Your comment will be visible after approval.
Your comment has been submitted, but their seems to be an error. Check your browser console for more details.