---
---
This site utilizes Google Analytics, Google AdSense, as well as participates in affiliate partnerships with various companies including Amazon. Please view the privacy policy for more details.
Another month, another dollar. Time for my monthly blog stat report.
Over the past month I only wrote three blog posts:
Alexa
My Alexa rank dropped another three-hundred thousand, and is quickly approaching four million:
Google Analytics
Even though my Alexa rank keeps going up (which is bad) by Google Analytics numbers keep going up. This month, they're all over 2,000:
Sessions → 2,340
Users → 2,111
Pageviews → 2,944
Google Analytics Graph for November
Google Search Console
Similarly, my Google Search Console keep improving as well:
Clicks → 1,790
Search Impressions → 59,200
Average position → 25.6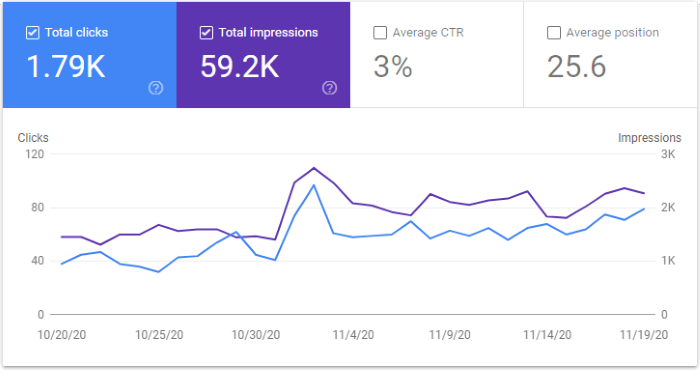 Google Search Console Graph for November
AdSense
My AdSense balance is finally over $100, which means that I should be getting a direct deposit soon. It hasn't happened yet - I think it can happen at most once a month, and I'm not sure what day of the month it happens. I checked, and I have inputted my bank account and tax info into my AdSense account.
Here are this month's numbers:
Balance → $121.48
Estimated earnings → $56.21
Impressions → 6,950
Clicks → 91

Google AdSense Graph for November
It has taken me over four years to get to this point. The first post I made on this iteration of my blog was on September 2, 2015. When I looked at my AdSense data, the first date with data was March 30, 2016. The first date with any estimated earnings was June 20, 2016.
In fact, looking at the commit history for the AdSense code on this blog, it looks as if I added AdSense on March 24, 2016.
For fun, I created a little graph showing the growth of my AdSense balance over time: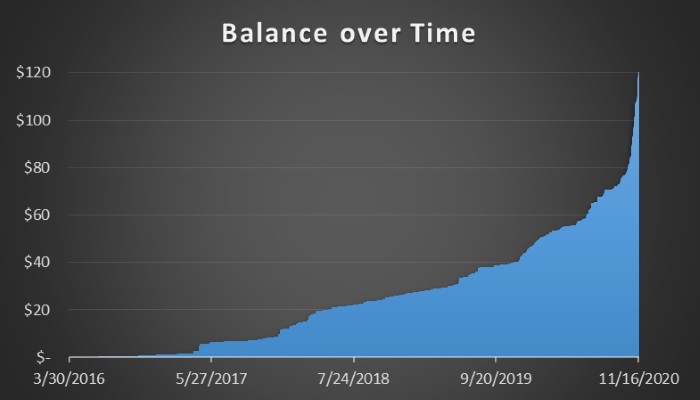 I last did something like this back in my July 2018 blog stats post. This time, however, I saved the AdSense data into a CSV file. Feel free to look at it if you want.
Moz Stats
Not much has changed with the Moz stats, except that I've lost five linking domains and gone up one point in domain authority:
Moz Domain Authority → 31
Moz Linking Domains → 515
Ratios
Earnings / 1,000 sessions = $56.21 / 2,340 = $24.02
Earnings / 1,000 pageviews = $56.21 / 2.944 = $19.09
Earnings / 1,000 impressions = $56.21 / 6.950 = $8.09
Earnings / day = $56.21 / 31 = $1.81
Sessions / day = 2,340 / 31 = 75.5
Pageviews / day = 2,944 / 31 = 95.0
Impressions / day = 6,950 / 31 = 224.2

Thank you. Your comment will be visible after approval.
Your comment has been submitted, but their seems to be an error. Check your browser console for more details.