March 2019 Blog Statistics
---
---
This site utilizes Google Analytics, Google AdSense, as well as participates in affiliate partnerships with various companies including Amazon. Please view the privacy policy for more details.
Happy Spring Equinox everyone! It's the twentieth, which means it's time for another blog stats report.
I was able to publish six posts this month:
On that last bullet point - Amazon, for whatever reason, decided to reinstate my associate account. Who knows how the Amazon hive mind works?
I also conducted an experiment after publishing the credit union post where I submitted it the local subreddit. I'm always nervous submitting content to such sites, but it was actually well-received. You can see the spike in traffic on both the Google Analytics and Google AdSense charts below.
Alexa
Global Rank → 1,004,576
Rank in the United States → 201,620
Total Sites Linking In → 109
Google Analytics
Sessions → 1,903
Users → 1,718
Pageviews → 2,323

Google Analytics Graph for March
Google Search Console
Clicks → 804
Search Impressions → 42,200
Average position → 27.2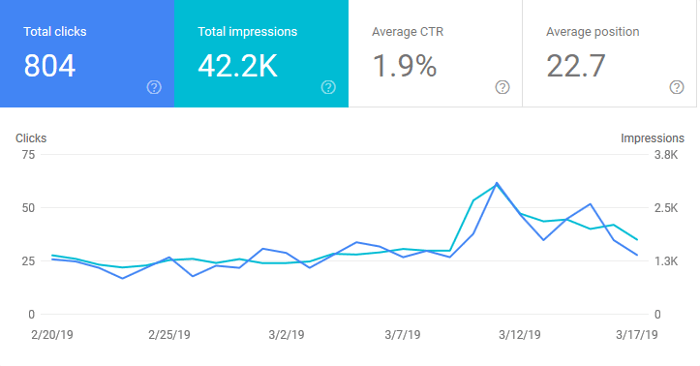 Google Search Console Graph for March
AdSense
Balance → $35.50
Estimated earnings → $1.06
Impressions → 1,510
Clicks → 2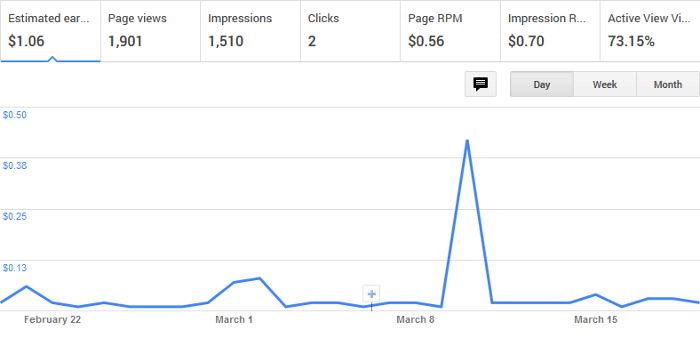 Google AdSense Graph for March
Ratios
Earnings / 1,000 sessions = $1.06 / 1.903 = $0.56
Earnings / 1,000 pageviews = $1.06 / 2.323 = $0.46
Earnings / 1,000 impressions = $1.06 / 1.51 = $0.70
Earnings / day = $1.06 / 28 = $0.04
Sessions / day = 1,903 / 28 = 68.0
Pageviews / day = 2,323 / 28 = 83.0
Impressions / day = 1,510 / 28 = 53.9