---
---
This site utilizes Google Analytics, Google AdSense, as well as participates in affiliate partnerships with various companies including Amazon. Please view the privacy policy for more details.
Coronavirus. COVID-19. Worldwide pandemic. The apocalypse. A lot's happened in the past month, but I've still been able to publish five posts.
Those posts are, of course:
Alexa
Once again my Alexa rank is above one million - except this is the first time the current domain (joehxblog.com) was above million.
Global Rank → 1,013,929
Rank in the United States → ??
Total Sites Linking In → 4
My old domain continues to lose "total sites linking in." This month it's at 49 sites, down from 61 in December 2019.
Google Analytics
Sessions → 802
Users → 725
Pageviews → 1,098

Google Analytics Graph for March
Google Search Console
Clicks → 109
Search Impressions → 4,040
Average position → 84.2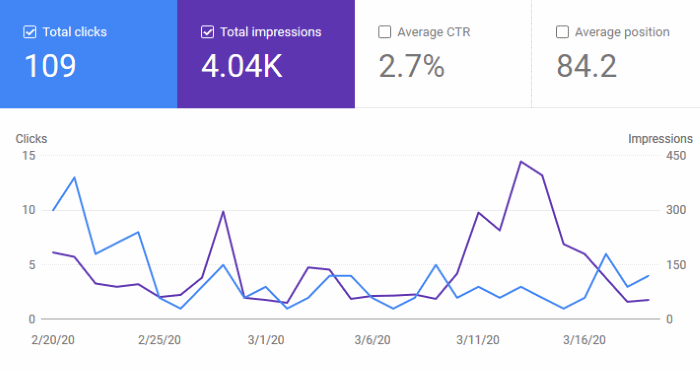 Google Search Console Graph for March
AdSense
Balance → $66.94
Estimated earnings → $1.80
Impressions → 1,281
Clicks → 9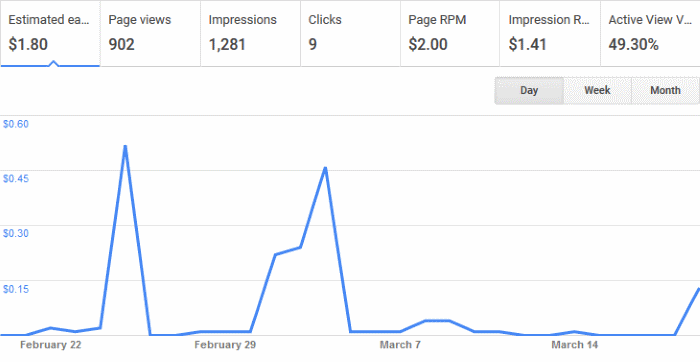 Google AdSense Graph for March
Moz Domain Authority
Moz Domain Authority → 33
Ratios
Earnings / 1,000 sessions = $1.80 / 0.802 = $2.24
Earnings / 1,000 pageviews = $1.80 / 1.098 = $1.64
Earnings / 1,000 impressions = $1.80 / 1.281 = $1.41
Earnings / day = $1.80 / 29 = $0.06
Sessions / day = 802 / 29 = 27.7
Pageviews / day = 1,098 / 29 = 37.9
Impressions / day = 1,281 / 29 = 44.2