---
---
This site utilizes Google Analytics, Google AdSense, as well as participates in affiliate partnerships with various companies including Amazon. Please view the privacy policy for more details.
November was an outstanding reading month.
Books I Read to My Children
Books I Read to My Son
I read a grand total of sixty-nine different books to my son in November. That's got to be a new record - and more than double than the thirty-four books I read him in October.
It helps that he brings books to me to read to me and that he absolutely loves being read to.
He's super into Sesame Street right now, and six of those books are brand new books. Not brand new as we got them brand new (they're actually library books) but brand new as in there copyright date is 2020.
These six books are: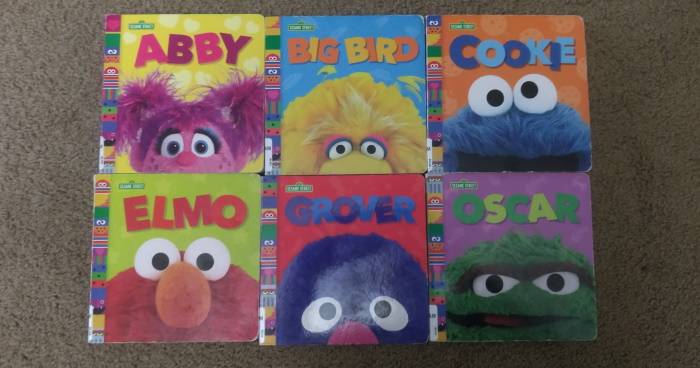 The six Sesame Street books copyrighted 2020
Eight of the sixty-nine books are "book blocks" that are roughly an inch thick and two-inch-by-two-inch in size - and, as the name suggests, very block-like. My son even will stack them like blocks.
These eight books are:
The remaining fifty-five books are:
Books I Read to My Daughter
My poor daughter doesn't get read to nearly as much as my son. Coupled with the fact that he's can't stand me reading to her without me reading to him as well (or playing…), she isn't able to bring me books like he is.
I was only able to read fifteen different books to my daughter in November. My daughter will turn one this month (December). I checked my book reading list for the month before my son turned one and it turns out I only read ten different books to him that month.
So I'm actually ahead!
The fifteen books to my daughter in November are:
The Book I Read for Me
In October I finished book two of the Cluster Series by Piers Anthony. Book two is called "Chaining the Lady."
There's still a lot of typos - something the author admitted to in the author notes at the end of one of the first two books. It's something even the reviews on Amazon have noted (particularly this review).
Plus I borrowed the series for free via free Prime Reading. As the name suggests, you do need to have Amazon Prime to have Prime Reading.
Don't have Amazon Prime? You can try Amazon Prime with a 30-Day free trial. There's also Prime Discounted Monthly Offering if you qualify, as well as a Prime Student 6-month Trial if you have a .edu email address.
I'm still reading that textbook on local government. I'm on chapter nine out of eighteen, so not quite halfway through. Since I haven't finished it, I'm not quite ready to mention what book it is, but if you really want to know, it's the book at this Amazon link.

Thank you. Your comment will be visible after approval.
Your comment has been submitted, but their seems to be an error. Check your browser console for more details.