September 2020 Blog Statistics
---
---
This site utilizes Google Analytics, Google AdSense, as well as participates in affiliate partnerships with various companies including Amazon. Please view the privacy policy for more details.
This month the twentieth falls on a Sunday. Which means I'm writing this blog stats post while my kids are napping.
Over the past month I wrote five blog posts:
Alexa
My Alexa rank dropped over a million points, and is now over three million - and almost four million! That sucks, but oh well. The blog is making more money than it did when the Alexa rank was last under a million back in February of this year:
Google Analytics
Sessions → 778
Users → 685
Pageviews → 1,047

Google Analytics Graph for September
Google Search Console
Clicks → 149
Search Impressions → 1,860
Average position → 62.1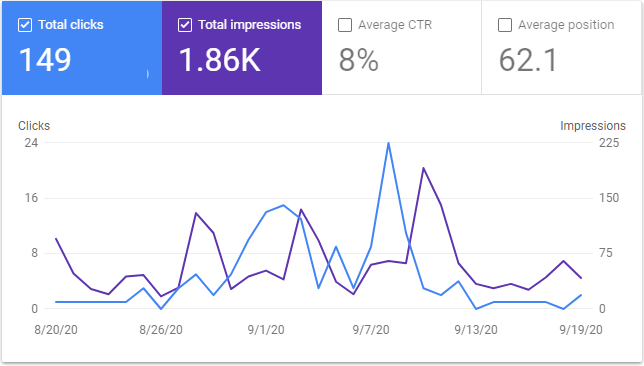 Google Search Console Graph for September
AdSense
I have less than ten bucks to go to be able to cash out of my AdSense earnings. It's only been, what, five years since the first post on this iteration of my blog?
Balance → $91.19
Estimated earnings → $2.72
Impressions → 1,415
Clicks → 9

Google AdSense Graph for September
Moz Stats
I've changed the name of the heading of this section and added Moz Linking Domains as a stat. I was able to get historical data from Moz and add it to my blog stats spreadsheet.
Moz Domain Authority → 30
Moz Linking Domains → 525
Ratios
Earnings / 1,000 sessions = $2.72 / 0.778 = $3.50
Earnings / 1,000 pageviews = $2.72 / 1.047 = $2.60
Earnings / 1,000 impressions = $2.72 / 1.415 = $1.92
Earnings / day = $2.72 / 31 = $0.09
Sessions / day = 778 / 31= 25.1
Pageviews / day = 1,047 / 31 = 33.8
Impressions / day = 1,415 / 31 = 45.6