October 2020 Blog Statistics
---
---
This site utilizes Google Analytics, Google AdSense, as well as participates in affiliate partnerships with various companies including Amazon. Please view the privacy policy for more details.
The twentieth of the month means it's time for my monthly blog stats report. This month it's October - covering the time frame from September 20th - October 19th, 2020.
Over the past month I wrote five blog posts:
Alexa
My Alexa rank dropped about 200,000, but at almost 4 million, that means it mostly stayed the same:
Google Analytics
All four of the stats I keep track of are over 1,000 for this month:
Sessions → 1,272
Users → 1,116
Pageviews → 1,692

Google Analytics Graph for October
Google Search Console
My search console graph has gone a bit crazy this month. The search impressions alone are over 30k - compared to a measly 1,860 last month. Funnily enough, the next highest search impression was last October at 26,500 impressions.
The page that has taken up nearly half of the impressions is Unlocking a 2004 Honda Civic Radio and Setting the Clock at 14,651 impressions (and a whopping 408 clicks). I guess that makes sense since the time will be changing soon.
Clicks → 769
Search Impressions → 30,400
Average position → 31.4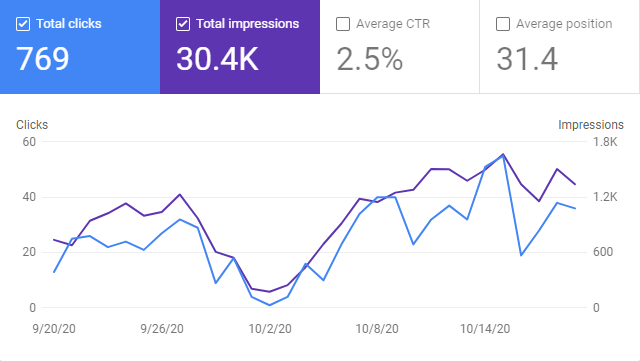 Google Search Console Graph for October
AdSense
Less than three bucks to go before I hit the magical $100 and cash out. It's only taken me, what, five years? At 40 hours a week, 52 weeks a year, that's equivalent to… Not even a penny an hour:
40 hours * 52 weeks * 5 years = 10,400 hours
$100 / 10,400 hours ≈ 0.96¢ / hour

Balance → $97.41
Estimated earnings → $11.28
Impressions → 3,077
Clicks → 35

Google AdSense Graph for October
Moz Stats
Not much has changed with the Moz stats, except that I've lost five linking domains:
Moz Domain Authority → 30 Moz Linking Domains → 520
Ratios
Earnings / 1,000 sessions = $11.28 / 1.272 = $8.87
Earnings / 1,000 pageviews = $11.28 / 1.692 = $6.67
Earnings / 1,000 impressions = $11.28 / 3.077 = $3.67
Earnings / day = $11.28 / 30 = $0.38
Sessions / day = 1,272 / 30 = 42.4
Pageviews / day = 1,692 / 30 = 56.4
Impressions / day = 3,077 / 30 = 102.6