February 2019 Blog Statistics
---
---
This site utilizes Google Analytics, Google AdSense, as well as participates in affiliate partnerships with various companies including Amazon. Please view the privacy policy for more details.
February has been a frustrating month for me in the blogosphere, for reasons I cannot disclose at the moment - although I probably will be able to Friday. My stats are down, too, but not as bad as they used to be.
I was able to publish five posts this month:
I also have some new "sections" on this site that aren't blog posts per se:
A few of these have existed for several months now. I'm just now remembering to mention them on one of my monthly blog stat posts.
Alexa
Global Rank → 1,089,842
Rank in the United States → 272,918
Total Sites Linking In → 122
Google Analytics
Sessions → 1,440
Users → 1,299
Pageviews → 2,036

Google Analytics Graph for February
Google Search Console
Clicks → 736
Search Impressions → 31,900
Average position → 23.3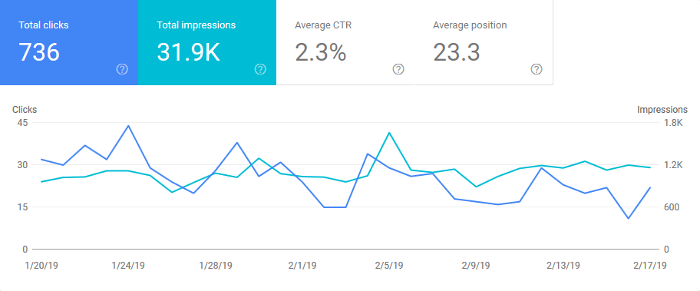 Google Search Console Graph for February
AdSense
Balance → $34.59
Estimated earnings → $0.48
Impressions → 1,145
Clicks → 0
I also now am displaying my AdSense monthly graph since they're no longer flat and boring: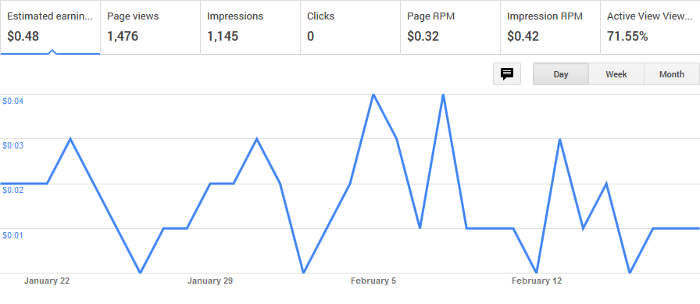 Google AdSense Graph for February
Ratios
Earnings / 1,000 sessions = $0.48 / 1.44 = $0.33
Earnings / 1,000 pageviews = $0.48 / 2.036 = $0.24
Earnings / 1,000 impressions = $0.48 / 1.145 = $0.42
Earnings / day = $0.48 / 31 = $0.02
Sessions / day = 1,769 / 31 = 46.5
Pageviews / day = 2,189 / 31= 65.7
Impressions / day = 1,255 / 31 = 36.9