May 2020 Blog Statistics
---
---
This site utilizes Google Analytics, Google AdSense, as well as participates in affiliate partnerships with various companies including Amazon. Please view the privacy policy for more details.
Rolling out the monthly blog stats in the middle of this pandemic.
This month I wrote four different posts:
Alexa
My Alexa rank remains above two million:
Global Rank → 2,123,128
Rank in the United States → ??
Total Sites Linking In → 2
My old domain continues to lose "total sites linking in." This month it's at 44 sites, down from 61 in December 2019.
Google Analytics
Sessions → 870
Users → 782
Pageviews → 1,133

Google Analytics Graph for May
Google Search Console
Clicks → 55
Search Impressions → 2,320
Average position → 72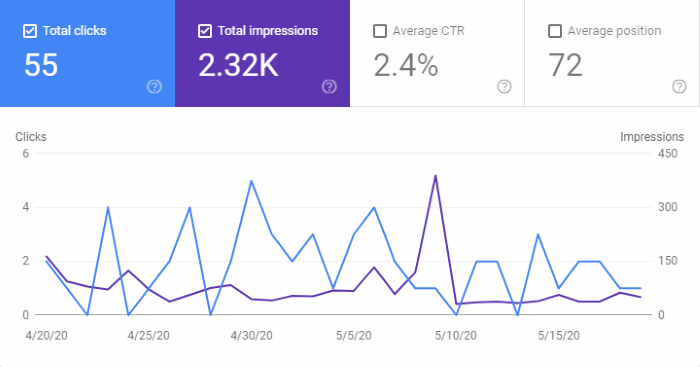 Google Search Console Graph for May
AdSense
Balance → $70.50
Estimated earnings → $3.21
Impressions → 1,667
Clicks → 8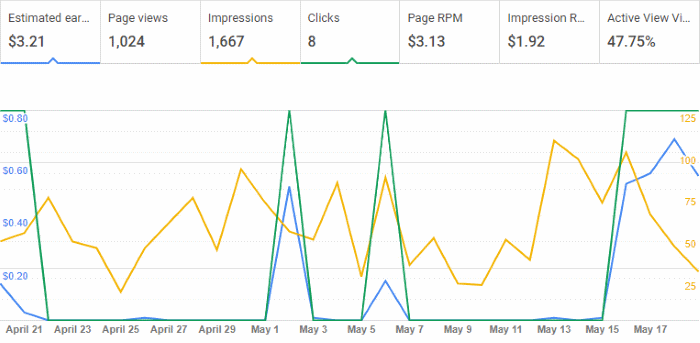 Google AdSense Graph for May
Moz Domain Authority
Moz Domain Authority → 32
Ratios
Earnings / 1,000 sessions = $3.21 / 0.870 = $3.69
Earnings / 1,000 pageviews = $3.21 / 1.133 = $2.83
Earnings / 1,000 impressions = $3.21 / 1.667 = $1.93
Earnings / day = $3.21 / 30 = $0.11
Sessions / day = 870 / 30 = 29.0
Pageviews / day = 1,133 / 30 = 37.8
Impressions / day = 1,667 / 30 = 55.6