September 2018 Blog Statistics
---
---
This site utilizes Google Analytics, Google AdSense, as well as participates in affiliate partnerships with various companies including Amazon. Please view the privacy policy for more details.
It's been a steady month in terms of stats for this blog. While there hasn't been much in the terms of improvement stats-wise, they have remained consistently good.
There was a small spike in pageviews on August 21st due to my article Will Making Twice-Monthly Half Mortgage Payments Save Money? being featured on the Noteworthy section of the Rockstar Finance email.
There's also a new set of statistics this month - stats from Google Search Console.
If you want to view any previous month's statistics, here are the links:
I published only five posts this month, down from the fourteen I published in the last two months (seven posts in July and seven posts in August):
And now for the numbers:
Alexa
Global Rank → 674,691
Rank in the United States → 274,142
Total Sites Linking In → 134
Google Analytics
Sessions → 1,737
Users → 1,584
Pageviews → 2,140
Google Analytics Graph for September
Google Search Console
New for this month is Google Search Console statistics. I'd previously submitted the non-HTTPS (i.e. HTTP) to Google Webmasters / Search Console a long time ago, but only recently submitted the HTTPS version - sometime on or around August 7th. Apparently, that's why my stats for Google Search Console had looked so bad. I'm sure Google had already indexed my pages and was putting them on search results, I just had no idea.
Clicks → 612
Search Impressions → 26,700
Average position → 19.2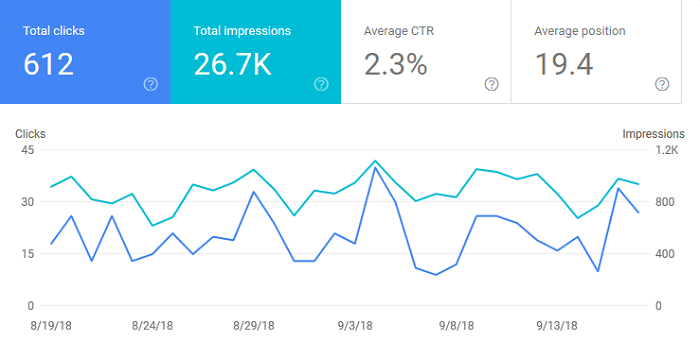 Google Search Console Graph for September
AdSense
Estimated earnings → $1.49
Impressions → 1,475
Clicks → 1
Ratios
Earnings / 1,000 sessions = $1.49 / 1.737 = $0.86
Earnings / 1,000 pageviews = $1.49 / 2.140 = $0.70
Earnings / 1,000 impressions = $1.49 / 1.475 = $1.01
Earnings / day = $1.49 / 31 = $0.05
Sessions / day = 1,737 / 31 = 56.0
Pageviews / day = 2,140 / 31= 69.0
Impressions / day = 1,475 / 31 = 47.6